Much in the same way that we're giving our autumn/winter wardrobe a spruce-up, House of Fraser's Victoria branch has recently undergone a cosmetic makeover. Keen to let locals know that the iconic British brand has re-opened for business, House of Fraser's media agency, Goodstuff, chose AdGates to herald the stylish return of the store.
Leveraging the close proximity to the shop plus the high impact numbers a fortnight-long AdGate campaign would yield (20,385,470*) are just a couple of the reasons why Goodstuff's planning team included AdGates on their schedule. Roy Shepherd at Goodstuff added "It's great to feature AdGates as part of our OOH solution for House of Fraser, we're always looking for opportunities that deliver standout and audience efficiency, and even better when it's right outside the store!"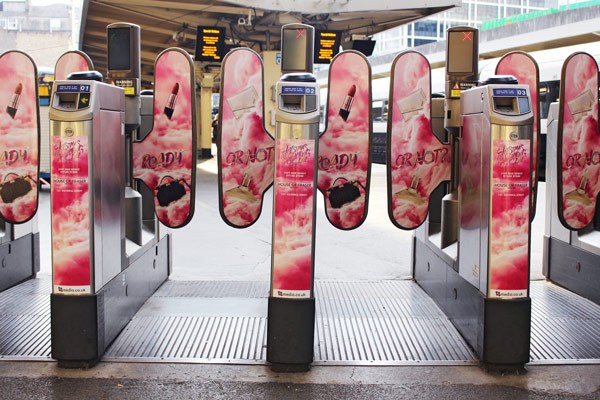 Closer scrutiny of Route data uncovers even more compelling reasons to use AdGates for the campaign. Over half of the aforementioned impacts are to people who frequently visit department stores (13,756,940*), and around a quarter of the total impacts at Victoria station hit self-confessed shopaholics, otherwise known as those that admit they spend a lot on clothes (4,702,958*). And alas, some are also terrible at saving money (3,881,609*), but that's what credit cards are for right?
The core House of Fraser patron hasn't been forgotten by this two week AdGate tenure either, generating 4,368,474 impacts with punters that have visited House of Fraser in the last 12 months.
*All data based on Victoria for two weeks – AdGate impacts based on concourse side placement only – data taken from Route November 2016.