London_Waterloo_Interior_Rush_Hour_2,_London,_UK_-_DiliffBah hambug? Not this year according to reports that place Britons among the world's most generous shoppers, spending nearly £700 each on festive items. It's good tidings for retailers who are gearing up for another busy Christmas.
According to Route, every two weeks 1,009,646 commuters are influenced to buy products that they've seen advertised on AdGates. Last year, Argos used AdGates to promote its latest deals and offers to commuters with great success. In fact, commuters who have visited Argos in the past 3 months have generated 29,683,520 impacts every two weeks!
Argos isn't the only retailer which produces high impact and reach figures. The table below showcases the numbers of commuters who engage with AdGates and have visited popular retailers in the last 3 months.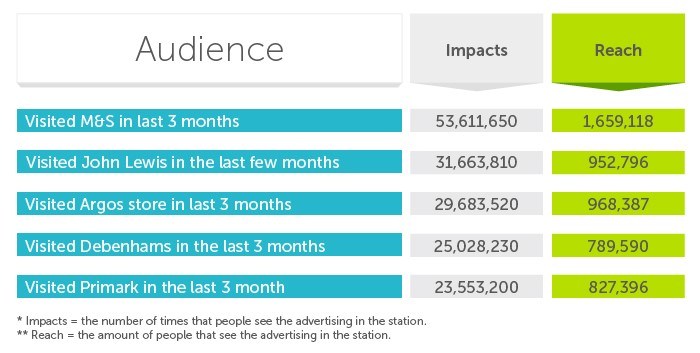 With Christmas just around the corner, it won't be long before footfall increases in train stations as Britons take advantage of the extra hours of shopping. Call Mark on 020 7233 9777 to find out how AdGate advertising can give your client a Christmas to remember!