About
AdNozzles® are an unmissable and highly accountable way to target motorists every time they fill up at petrol stations across the UK. Use AdNozzles® to target motorists in a specific region or postcode, or select one of our targeted packs to reach specific demographics, for example:
White van man: select diesel nozzles.
Truckers: target HGV forecourts.
Shoppers: run a campaign on supermarket forecourts.
Business users: national motorway network.
How it works
T4media can help plan your campaign around locations including:
Conurbations: focus on the major urban areas.
Proximity campaign: select forecourts within a radius or drive time zone from a specific location, for example, retail stores or motor dealerships.
London: premium locations within the M25.
FMCG: advertise on forecourts where your product is sold.
Coverage
Our excellent UK coverage consists of 3,000 forecourts pumping 72% of all UK fuel volume. These include locations such as Total, Esso and BP traditional forecourts plus Sainsbury's, Tesco and Morrisons supermarkets, with Moto Hospitality and Roadchef motorway forecourts. If you would like to book an AdNozzles® campaign, please use the contact form and a member of our team will be in touch.
Roadside Network
Excellent coverage on roads across the UK including the following networks:



Supermarket Network
Loyal consumers and busy sites with well-known brands:



Motorway Network
Business users and high mileage drivers

Research
The following research from a selection of campaigns provides some insight into the effectiveness and reach of fuel nozzle adverts.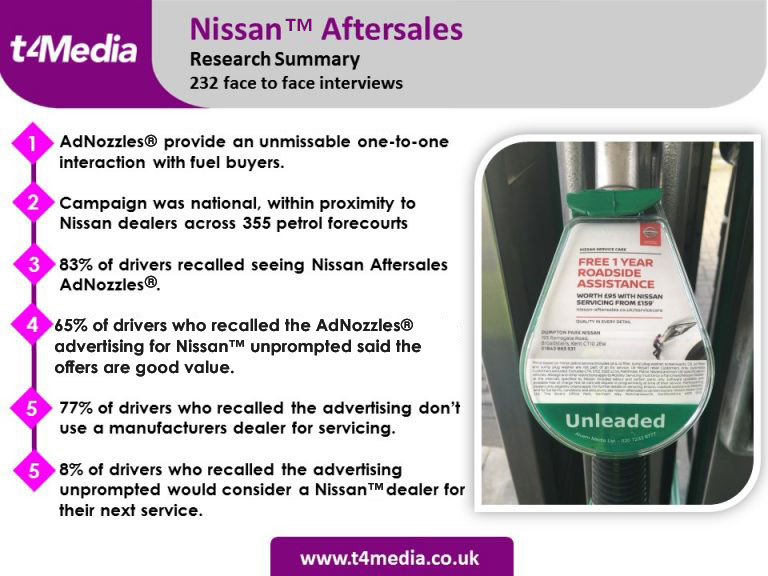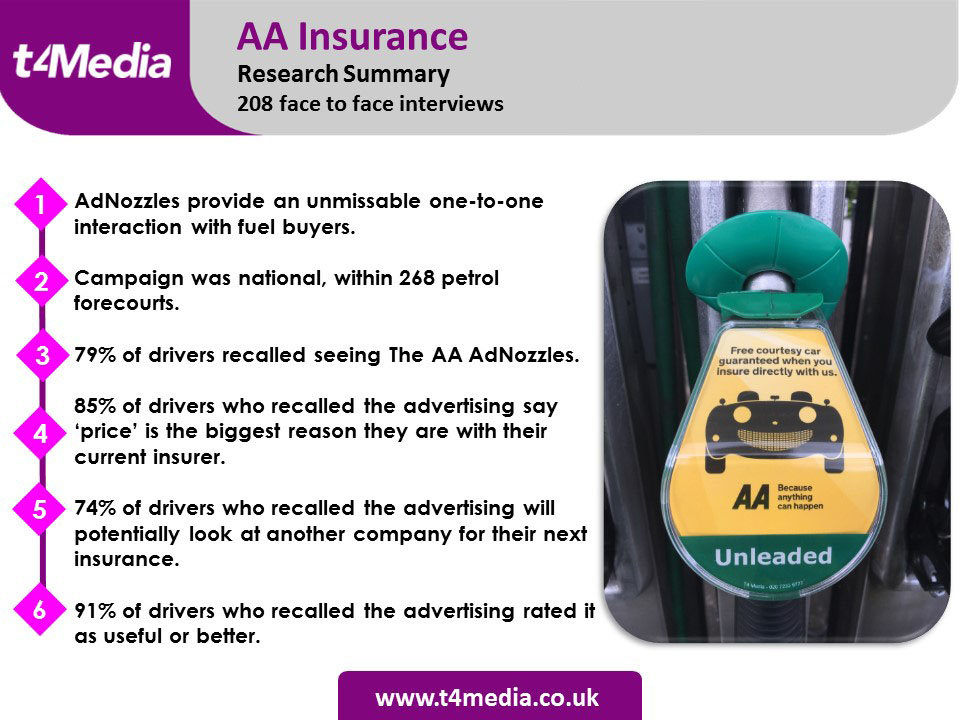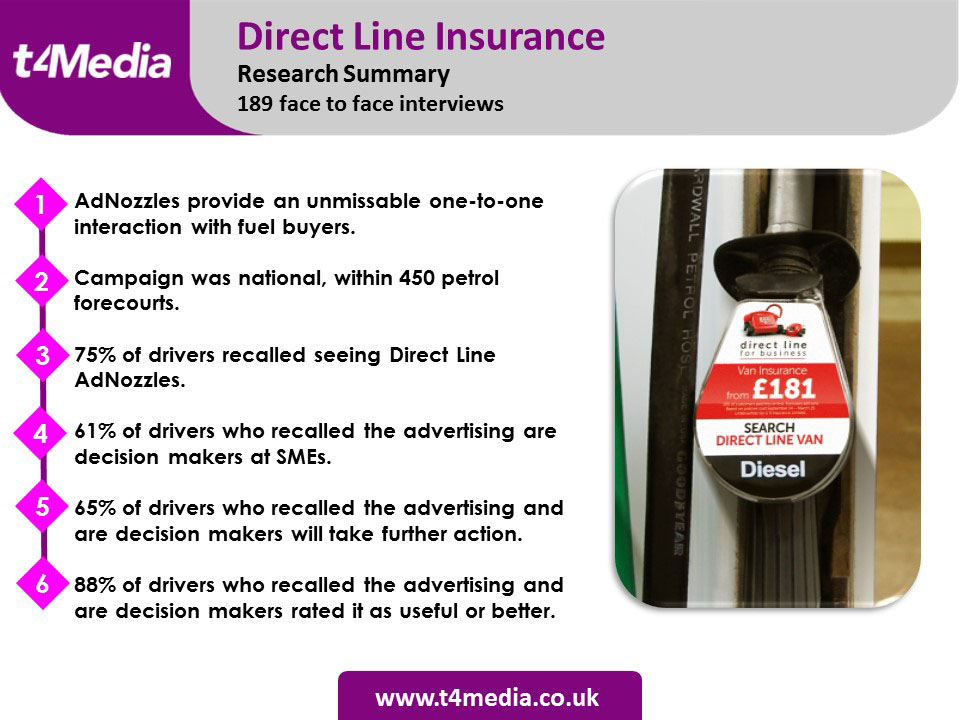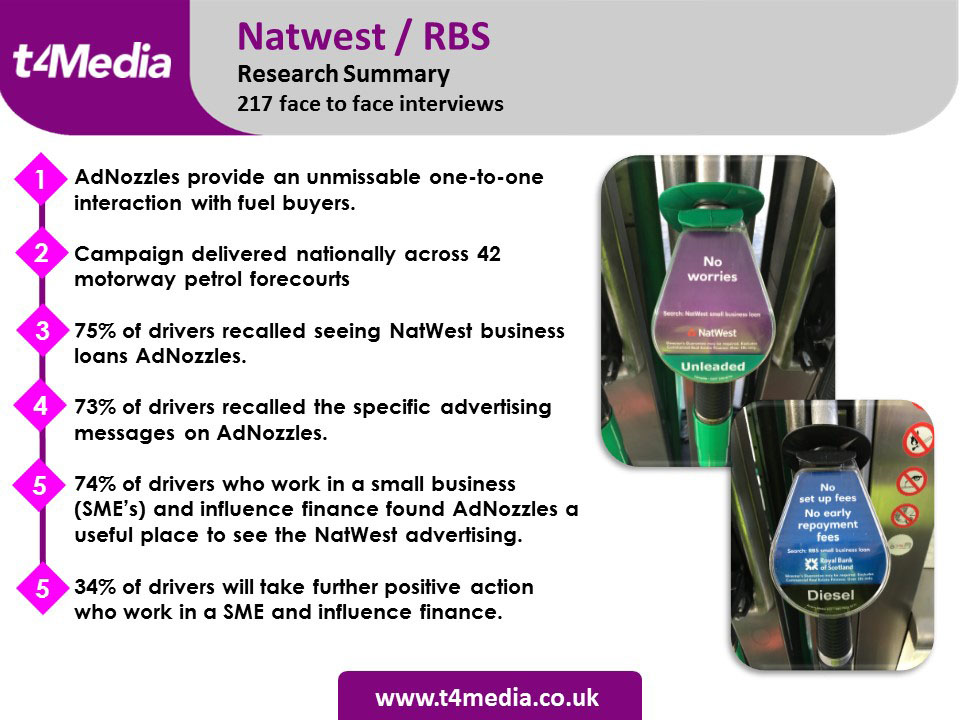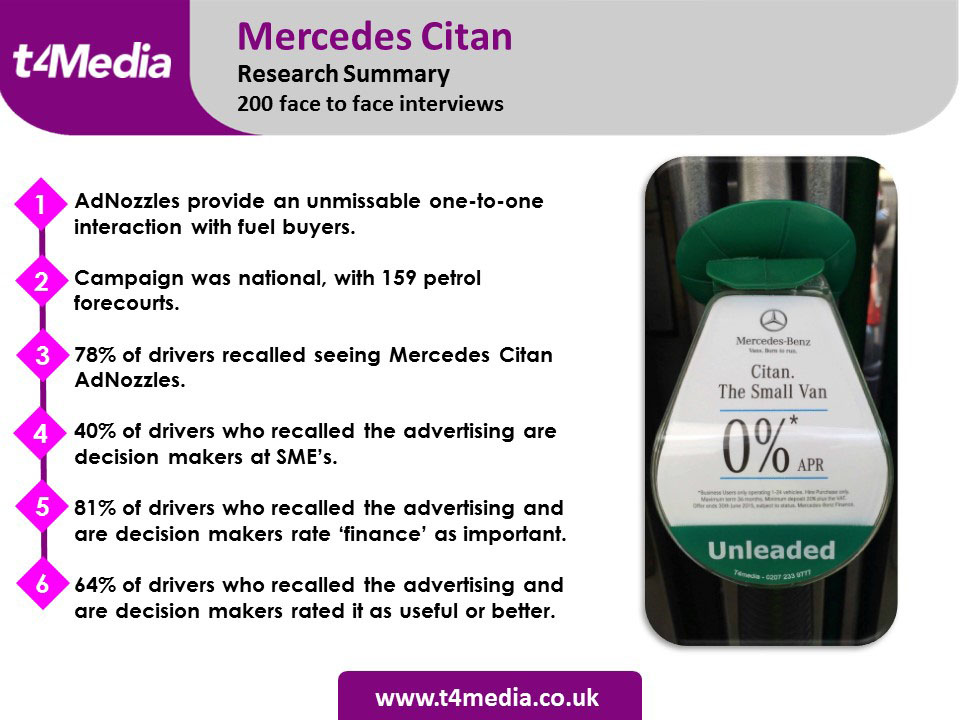 Artwork
Fuel nozzles are a truly unique place to advertise. More than any other media they provide advertisers with the unique opportunity to create guaranteed connections with every fuel buyer that uses them.
It's true that motorists look at AdNozzles® fuel nozzle adverts for longer than any other media – 52 seconds on average provides huge opportunity for impact. That's half the battle. The other half is visual attraction. This is critical to the success of an advertising campaign.
Put yourself in the position of a person reading your advert for the first time – is it clear:
Who you are?
What you do?
How they can contact you/respond to the advert?
What your offer is (if applicable)
If you would like some assistance your design, we have a reasonably priced design service to help you portray your brand, product and business in the best light possible. Just
get in touch
and we'll be happy to help.
Production
T4media will professionally print and install your campaign to the highest standard. We manage the whole process from artwork submission right through to final posting.
For AdNozzles® we ask for artwork to be sent 3 weeks before the posting date.
Please click the link below to view our artwork specs in PDF format.
If you have any questions relating to the production of an AdNozzles® campaign please use the
Contact form
or call 020 7233 9777.
AdNozzle® Heritage: FillBoard™
AdNozzles® are known in nearly all other European countries as FillBoard™, which was introduced into the advertising market in 1993. FillBoards are installed in approximately 25,000 petrol filling stations across Europe. T4Media is the exclusive license holder for the UK and Ireland. T4Media GmbH is based in Hamburg, Germany, and is the Licensor. Visit them at
www.alvern.de